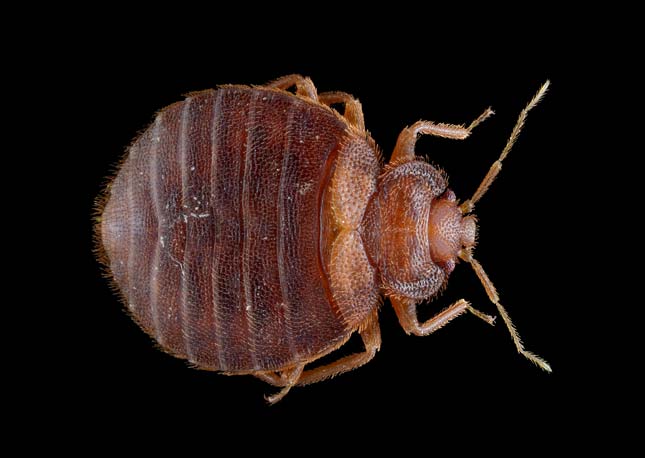 Pre & PostArrival Procedures
To ensure the elimination of this particular pest, it is important to adhere to the following procedures as well as possible. Failure to do so may result in in-effective treatments.
Remove all linens, blankets, sheets covers, bath towels, drapes, curtains, throws, rugs, etc from all bedrooms, living rooms and dens and place them inside sealed plastic bags. Wash these items on the highest heat settings possible with bleach. Dry them using the highest heat settings possible. Re-seal them in

NEW

 bags. We recommend using the 

Laundromat due to the quality of their machines, 

but you may do this at home as well. Do

NOT

 open the sealed bags until after treatment.
Remove all items from inside your drawers, closets, chests and under-the-bed storage. (Not including your Kitchen… unless the infestation is that bad.) All Coats and Clothes should be placed inside plastic bags and washed. Shoes and slippers should be ran through dryer on hottest heat. Do not bring clean items back into the home until after treatment.

We recommend putting a weeks worth of clothes together to use during this process so you are not washing all of your clothes multiple times between treatments.

Remove any pet toys and feeding bowls. Place them safely away for the duration of the Treatment.

Ensure bedrooms are completely stripped and devoid of any delicate items. Remove anything hanging on bedroom/living room walls and place out of treatment area.

Remove/Enclose/Cover electronics, music systems etc where possible. (

Don't

 have to get crazy here… just if you have something close to the treatment area you're worried about.)
Strip sofas of their pillows and wash pillow cases and covers in

HOT

 water.

Move furniture at least 1.5 feet from wall

Remove outlet covers. (1st treatment only)

Inspect books, electronics, picture frames, plastic toys etc. These items cannot be treated. Spraying them down with an 

alcohol/water mix may be a good idea.

Prior to the start of any bed bug treatment, vacuum all rooms, chairs, sofas and other upholstered items VERY well focusing on nooks and crannies. Hard wood floors can be washed using a cleaning solution. To prevent bed bugs and larvae from escaping, seal all vacuum bags in plastic bags and dispose of them. Clean 

vacuum

 when finished.
Purchase high quality mattress covers for all mattresses/box springs in the home.

MUST

 

Ensure all rooms are free of clutter. Clutter gives bed bugs a place to hide.

Cover and store any open food products, dishes or utensils before service is rendered.

If the infestation is deemed severe enough it may be necessary to dispose of box springs in your home.

*Speak with RPM
 Keep pets and children away during treatment.

People and Pets must remain out of the home until insecticide has dried (~4 hours). 

Dry time is essential to ensure the home is completely aired out before allowing sensitive individuals, such as small children or pets back into the home.

No Mopping or water-cleaning after treament until approved by RPM. Sweeping and 

vacuuming

 is ok.

Clean countertops and any food prep areas with soap and water before re-using them.
Have a question?
Just ask!